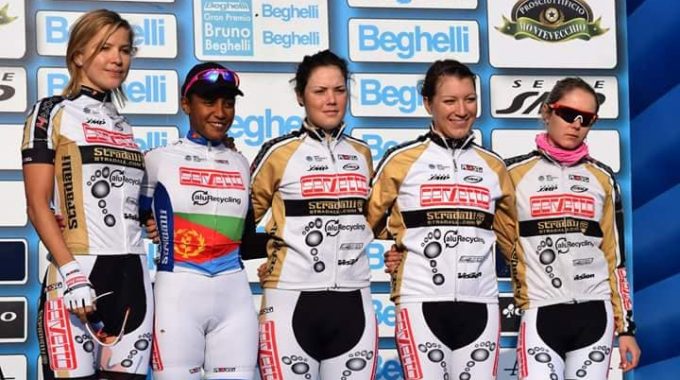 SI CHIUDE IN CINA LA STAGIONE 2018
Il prossimo 21 ottobre è in programma l'ultima corsa dell'anno per il Team Servetto – Stradalli – Alurecycling. Il Tour of Guangxi, valido per il Women's World Tour, si disputa su una singola corsa di 145.8 km intorno alla città cinese di Guilin, ed è alla sua prima edizione assoluta. La parte più impegnativa del tracciato è tra il km 80 e 105, dove sono previsti un GPM di terza e uno di seconda categoria, seguiti da una discesa piuttosto ripida. Il finale pianeggiante negli ultimi 30 chilometri potrebbe favorire comunque le ruote più veloci.
Per questa gara finale il Team Manager Dario Rossino ha selezionato le atlete Anna Potokina, Mossana Debesay, Elena Novikova, Sara Pillon e Aurora Gaio; confermata dunque la line-up che ha partecipato sia al Giro dell'Emilia che al GP Bruno Beghelli. Sarà del gruppo anche Kseniia Dobrynina, in fase di recupero dopo un intervento chirurgico che l'ha costretta a saltare le corse post-Mondiali. L'atleta russa sosterrà le compagne di squadra dall'ammiraglia, in attesa di riprendere l'attività di preparazione alla prossima stagione.
LINE-UP TOUR OF GUANGXI:
Anna POTOKINA (Russia)
Mossana DEBESAY (Eritrea)
Elena NOVIKOVA (Ucraina)
Sara PILLON (Italia)
Aurora GAIO (Italia)
Team Manager: Dario Rossino (Italy)
THE 2018 SEASON ENDS IN CHINA
On the 21st October there is the final race of the year for the Team Servetto – Stradalli – Alurecycling. The Tour of Guangxi, valid for the Women's World Tour, will take place in a single race day on the 145.8 kms around the Chinese city of Guilin, and it is at its very first edition. The hardest part of the route is between the 80th and 105th km, with two climbs of category 3 and 2, followed by a steep descend. The final, flat 30 kms could even suit to the sprinters.
The Team Manager Dario Rossino selected for this final race the athletes Anna Potokina, Mossana Debesay, Elena Novikova, Sara Pillon and Aurora Gaio; the line-up of the recent Giro dell'Emilia and GP Bruno Beghelli has been confrmed. As well Kseniia Dobrynina will be part of the group, supporting her team colleagues from the car due to a surgery operation that did not permit her to be selected in the races after the World Championships. She will be soon ready to prepare the start of the next season.
LINE-UP TOUR OF GUANGXI:
Anna POTOKINA (Russia)
Mossana DEBESAY (Eritrea)
Elena NOVIKOVA (Ukraine)
Sara PILLON (Italy)
Aurora GAIO (Italy)
Team Manager: Dario Rossino (Italy)
Cycling Communication
Press Office Team Servetto – Stradalli – AluRecycling
Mail: press.servettofooton@gmail.com
Web: www.atbike.it
Twitter: @TeamServetto
Instagram: @ServettoStradalliAlurecycling