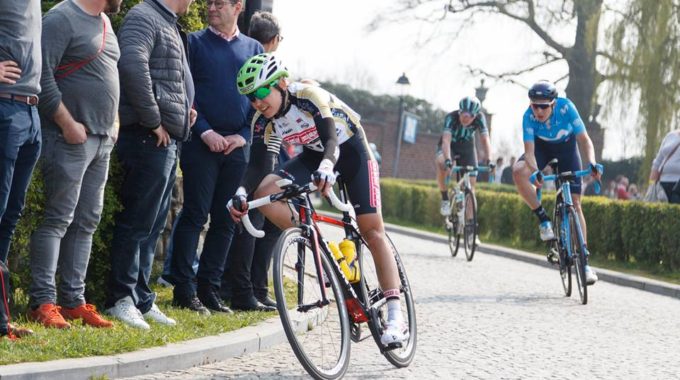 ANNA POTOKINA RINNOVA PER IL SETTIMO ANNO CONSECUTIVO
E' la veterana, la capitana della squadra e lo sarà anche nel 2020. Anna Potokina, campionessa Nazionale di Russia nel 2015 e medaglia di bronzo in carica, ha prolungato per la settima stagione di fila la sua militanza nel Team Servetto – Piumate – Beltrami TSA. La sua carriera, iniziata in formazioni spagnole dal 2012 al 2013, è proseguita in Italia dal 2014 va avanti alla corte di Dario Rossino e Stefano Bortolato, rispettivamente Team Manager e Presidente della squadra astigiana. 
Il titolo nazionale vinto nel 2015 è uno dei punti più alti in carriera per l'atleta di Voronezh, che grazie alle sue doti di scalatrice è stata capace di ottenere importanti risultati anche in gare World Tour a traguardi durissimi come il Monte Zoncolan al Giro Rosa Iccrea 2018. 
Il Presidente Stefano Bortolato commenta: "Siamo onorati che Anna abbia deciso di continuare la sua carriera con noi. In questi sei anni si è dimostrata importante per la squadra non solo grazie ai risultati ottenuti ma anche aiutando le ragazze più giovani a crescere." 
SCHEDA ATLETA:
Nome e cognome: Anna Potokina
Data di Nascita: 18 giugno 1987
Luogo di Nascita: Voronezh (Russia)
In squadra dal: 2014
Ruolo: Passista-Scalatrice, Leader
ANNA POTOKINA RE-SIGNS FOR HER 7TH YEAR IN A ROW
She is the veteran, the team captain, and she will continue even in 2020. Anna Potokina, the 2015 Russian National Champion and bronze medal 2019, will race for one more year with the Team Servetto – Piumate – beltrami TSA. Her career as elite started in Spain between 2012 and 2013, and it continued in Italy since 2014 with Dario Rossino and Stefano Bortolato, the Team Manager and the President of Servetto – Piumate – Beltrami TSA. 
The national title she won in 2015 is one of the highest points in the career of the athlete from Voronezh (Russia), who took also great results in World Tour races due to her talent as climber, like on the Monte Zoncolan at the Giro Rosa Iccrea 2018.
The Team President Stefano Bortolato says: "We are honoured that Anna will continue to race in our team. In the past six years she demontrated to be important not only for her results but to be a help for the younger athletes."
ATHLETE SCHEDULE:
Name: Anna Potokina
Date of Birth: 18th June 1987
Place of Birth: Voronezh (Russia)
In the Team since: 2014
Role: Rouleur-Climber, Leader
Cycling Communication
Press Office Team Servetto – Piumate – Beltrami TSA
Mail: press.servettofooton@gmail.com
Web: www.atbike.it
Twitter: @TeamServetto
Instagram: @teamservetto
Facebook: @TeamServettoPiumateBeltramiTSA