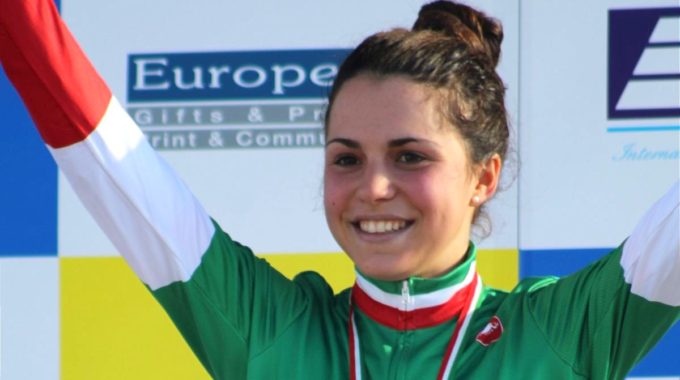 SARA CASASOLA RINNOVA DOPO IL TRICOLORE DI CICLOCROSS
A due giorni di distanza dalla vittoria al Campionato Italiano disputato all'Idroscalo di Milano, la giovane friulana prolunga il suo contratto con Servetto – Piumate – Beltrami TSA, squadra con cui ha debuttato su strada nella categoria Elite la scorsa stagione. 
Nata nel 1999, Sara Casasola ha esordito nella massima categoria alla Strade Bianche lo scorso marzo, poche settimane dopo aver ottenuto il sesto posto ai Mondiali di Ciclocross a Valkenburg (Paesi Bassi). La stagione su strada è proseguita e culminata con la partecipazione al Giro Rosa, dove era la più giovane atleta al via e dove è stata in grado di portare a termine la gara, conclusasi a Cividale del Friuli in mezzo a numerosi suoi sostenitori. 
Questa settimana, il trionfo ai Campionati Nazionali di Ciclocross Under 23 a Milano sul tracciato all'interno del Parco dell'Idroscalo, dove ha battuto Silvia Persico e Francesca Baroni, regalandosi un nuovo contratto per la stagione su strada, dove continuerà a difendere i colori di Servetto – Piumate – Beltrami TSA. A questo proposito il Team Manager della formazione astigiana Dario Rossino commenta: "Il rinnovo è una formalità, Sara è una atleta che può dire la sua anche nelle gare su strada. E' ancora giovanissima e sta crescendo bene per poter competere ad alti livelli su tutti i terreni."
Foto (c) Andrea Giorgini
SARA CASASOLA RENEWS AFTER THE CYCLOCROSS NATIONAL TITLE
Two days after winning the Italian Championships in Milan – Idroscalo, the young talent from Friuli signed a contract with Servetto – Piumate – Beltrami TSA for one more season, as she debuted with the team in the Elite Category last season. 
Born in 1999, Sara Casasola took part at her first race in the highest category at the Strade Bianche in March, a few weeks later her 6th place at the Cyclocross World Championships in Valkenburg (Netherlands). The season on the road continued and had her best moment at the Giro Rosa, where Sara was the youngest athletes and she could finish the race in Cividale del Friuli, her homeland, supprted by a huge number of fans.
This week, the triumph at the Under 23 Italian Cyclocross National Championships in Milan – Idroscalo Park, where she beated Silvia Persico and Francesca Baroni: now, there is a new contract for the road race season, where she will keep defending the colours of Servetto – Piumate – Beltrami TSA.
The Team Manager Dario Rossino commented: "The re-sign is a formality: Sara is a very strong athlete who can give her best as well in the road races. She is still very young  and she is improving good to be competitive at top levels on all the terrains."
Photo (c) Andrea Giorgini
Cycling Communication
Press Office Team Servetto – Piumate – Beltrami TSA
Mail: press.servettofooton@gmail.com
Web: www.atbike.it
Twitter: @TeamServetto
Instagram: @teamservetto
Facebook: @TeamServettoPiumateBeltramiTSA