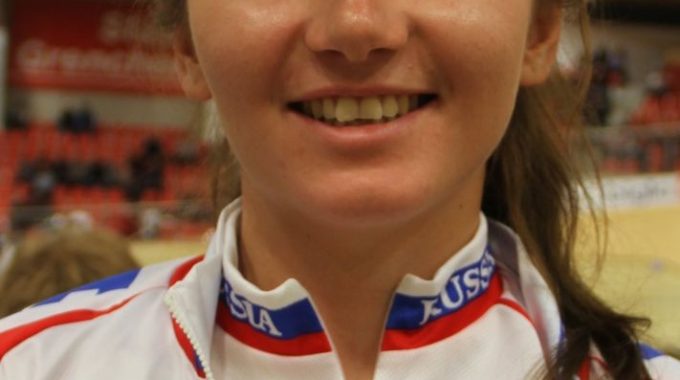 INGAGGIATA LA VELOCISTA RUSSA ALEKSANDRA GONCHAROVA
AtBike comunica l'avvenuto ingaggio di Aleksandra Goncharova, velocista e pistard di nazionalità russa. Nata il 26 ottobre 1992, ha conquistato la medaglia d'argento europea nel 2014 e nel 2015 nell'inseguimento a squadre. Ha inoltre partecipato al Giro di Toscana Femminile – Memorial Michela Fanini la scorsa stagione. Con il suo ingaggio raggiunge le connazionali Anna Potokina e Kseniia Dobrynina nel Team Servetto – Piumate – Beltrami TSA e sarà impegnata nei prossimi giorni ai Campionati Mondiali su pista in scena a Pruszkow, in Polonia. 
"Aleksandra sarà uno dei nostri punti di riferimento per le volate, la squadra è competitiva su tutti i fronti" – ha dichiarato il Team Manager Dario Rossino.
SCHEDA ATLETA:
Nome e Cognome: Aleksandra Goncharova
Nazionalità: Russa
Data di Nascita: 26/10/1992
Ruolo: Velocista/Pistard
THE RUSSIAN SPRINTER ALEKSANDRA GONCHAROVA HAS SIGNED
AtBike announces Aleksandra Goncharova, Russian sprinter and pistard as new member of the Team Roster. Born on 26th October 1992, she won the Silver Medal in the track team pursuit race at the European Championships 2014 and 2015. She also participated at the Giro di Toscana Femminile – Memorial Michela Fanini in the last season and she becomes the third Russian rider of Servetto – Piumate – Beltrami TSA with her compatriots Anna Potokina and Kseniia Dobrynina. Aleksandra is going to race with the Russian National Team at the Track World Championships next week in Pruszkow (Poland). 
"Aleksandra will be one of our main elements for the sprints, the team is competitive on all the terrains." – says the Team Manager Dario Rossino.
ATHLETE SCHEDULE:
Name: Aleksandra Goncharova
Nationality: Russian
Date of Birth: 26/10/1992
Role: Sprinter/Track Rider
Cycling Communication
Press Office Team Servetto – Piumate – Beltrami TSA
Mail: press.servettofooton@gmail.com
Web: www.atbike.it
Twitter: @TeamServetto
Instagram: @teamservetto
Facebook: @TeamServettoPiumateBeltramiTSA