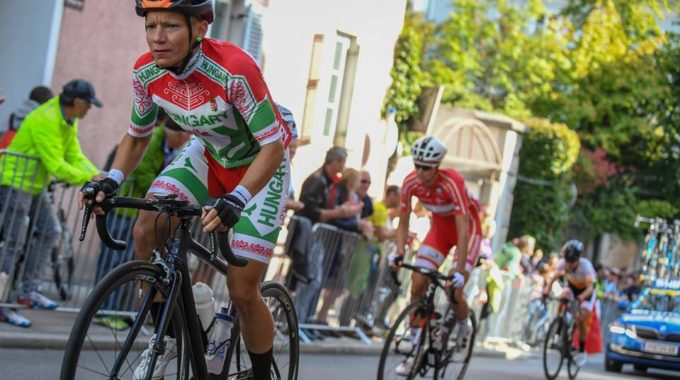 INGAGGIATA LA PLURICAMPIONESSA DI UNGHERIA MONIKA KIRALY
Nuovo innesto per la formazione astigiana, che ingaggia dalla S.C. Michela Fanini l'esperta atleta magiara, già vincitrice per due volte del Campionato Nazionale nella prova in linea e per tre volte a cronometro.
Monika Kiraly, nata nel 1983, corre da alcune stagioni in Italia e si è fatta notare nelle principali corse del calendario nazionale ed internazionale: nel 2018 ha terminato al secondo posto entrambe le prove dei Campionati d'Ungheria su strada ed ha ottenuto un 30° posto come migliore piazzamento di tappa al Giro Rosa, nella cronoscalata Lanzada – Diga di Campo Moro, in Valtellina. Ha inoltre partecipato ai Campionati del Mondo su strada a Innsbruck, difendendo i colori della Nazionale magiara. 
Atleta brevilinea, è dotata di un notevole spunto in salita, dove spesso si trova a lottare per le migliori posizioni.
Le parole di Dario Rossino, Team Manager di Servetto – Piumate – Beltrami TSA: "Monika è una atleta molto esperta e sarà importante il suo contributo alla squadra. Siamo contenti che abbia scelto di correre con noi, e le diamo il nostro benvenuto più caloroso."
SCHEDA ATLETA:
Nome e cognome: Monika Kiraly
Nazionalità: Ungherese
Nata il: 10 novembre 1983
Proviene da: S.C. Michela Fanini Rox
Ruolo: passista – scalatrice
THE FORMER HUNGARIAN CHAMPION MONIKA KIRALY SIGNED
A new athlete for the Team Servetto – Piumate – Beltrami TSA, which signs from S.C. Michela Fanini the expert athlete from Hungary, former winner of two Road Races and three ITT at the National Championships.
Monika Kiraly, born in 1983, races since some seasons in Italy and she performed well in various races of the National and International calendar: she finished second in both races at the National Championships of Hungary, then she had a 30th place as best stage result at the Giro Rosa, in the uphill Time Trial Lanzada – Diga di Campo Moro, in Valtellina. She participated as well at the Road World Championships in Innsbruck with the Hungarian National Team. 
Monika is a good talent on climbs, where is often fighting for the best positions.
Dario Rossino, Team Manager of Servetto – Piumate – Beltrami TSA, says: "Monika is a very expert athlete and she will give an important help to the team. We are happy that she chose to race for our team and we give her a very warm welcome."
SCHEDA ATLETA:
Name and surname: Monika Kiraly
Nationality: Hungarian
Date of Birth: 10th November 1983
Last Team: S.C. Michela Fanini Rox
Role: rouleur – climber
Cycling Communication
Press Office Team Servetto – Piumate – Beltrami TSA
Mail: press.servettofooton@gmail.com
Web: www.atbike.it
Twitter: @TeamServetto
Instagram: @teamservetto
Facebook: @TeamServettoPiumateBeltramiTSA