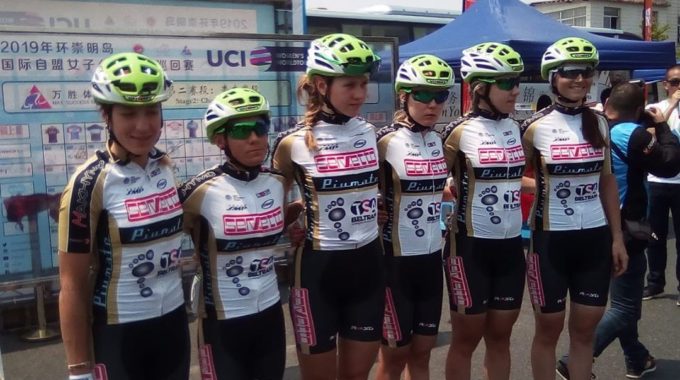 DOMANI SCATTA LA VUELTA A BURGOS
Dopo l'esperienza cinese al Tour of Chongming Island il Team Servetto – Piumate – Beltrami TSA torna in Europa a disputare un importante gara a tappe sul suolo spagnolo. La Vuelta a Burgos presenta quattro frazioni impegnative dal 16 al 19 maggio, due per attaccanti e due per scalatrici grazie ad altrettanti arrivi in salita, a Poza de la Sal e soprattutto all'Alto de Rosales nella seconda e terza giornata di gara. La frazione inaugurale a Villadiego è la più lunga di questa edizione con i suoi 109.5 km, ed ha la salita dell'Alto de Tobar posizionata a circa 20 km dal termine. La città di Villarcayo ospiterà l'arrivo finale, dove verrà incoronata la vincitrice della Classifica generale e degli altri ranking speciali.
La squadra diretta da Dario Rossino sarà al via con le russe Anna Potokina e Kseniia Dobrynina, le italiane Sara Casasola e Francesca Balducci, infine la ungherese Monika Kiraly. 
LE TAPPE DELLA VUELTA A BURGOS FEMINAS:
1. Geoparque de las Loras – Villadiego, 109.5 km
2. Poza de la Sal – Poza de la Sal, 88.2 km
3. Medina de Pomar – Alto de Rosales, 81.2 km 
4. Pedrosa de Valdeporres – Villarcayo, 85.5 km
LINE-UP VUELTA A BURGOS FEMINAS: 
Anna POTOKINA (Rus)
Kseniia DOBRYNINA (Rus)
Sara CASASOLA (Ita)
Francesca BALDUCCI (Ita)
Monika KIRALY (Hun)
Team Manager: Dario ROSSINO (Ita)
THE VUELTA A BURGOS STARTS TOMORROW
After the experience in China at the Tour of Chongming Island, the Team Servetto – Piumate – Beltrami TSA comes back to Europe to participate to an important stage race on Spanish soil. The Vuelta a Burgos has four hard stages from the 16th to 19th May; two are for attackers and two for climbers, due to the uphill finishes of Poza de la Sal and Alto de Rosales in the second and third day of race. The opening stage in Villadiego is the longest one with its 109.5 kms and it has the Alto de Tobar at about 20 kms from the finish. Villarcayo hosts the final finish, where the overall winner will be crowned together with the leaders of the other, special rankings. 
The Team, directed by Dario Rossino, will be at the start with the Russians Anna Potokina and Kseniia Dobrynina, the Italians Sara Casasola and Francesca Balducci, and the Hungarian Monika Kiraly. 
THE STAGES OF VUELTA A BURGOS FEMINAS:
1. Geoparque de las Loras – Villadiego, 109.5 km
2. Poza de la Sal – Poza de la Sal, 88.2 km
3. Medina de Pomar – Alto de Rosales, 81.2 km 
4. Pedrosa de Valdeporres – Villarcayo, 85.5 km
LINE-UP VUELTA A BURGOS FEMINAS: 
Anna POTOKINA (Rus)
Kseniia DOBRYNINA (Rus)
Sara CASASOLA (Ita)
Francesca BALDUCCI (Ita)
Monika KIRALY (Hun)
Team Manager: Dario ROSSINO (Ita)
Cycling Communication
Press Office Team Servetto – Piumate – Beltrami TSA
Mail: press.servettofooton@gmail.com
Web: www.atbike.it
Twitter: @TeamServetto
Instagram: @teamservetto
Facebook: @TeamServettoPiumateBeltramiTSA